---
Amplified Bible, Classic Edition
7 I am as a wonder and surprise to many, but You are my strong refuge.
8 My mouth shall be filled with Your praise and with Your honor all the day.
9 Cast me not off nor send me away in the time of old age; forsake me not when my strength is spent and my powers fail.
Read full chapter
Amplified Bible, Classic Edition (AMPC)
Copyright © 1954, 1958, 1962, 1964, 1965, 1987 by The Lockman Foundation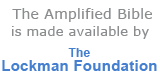 Bible Gateway Recommends
KJV and Amplified Side-by-Side Bible, Italian Duo-Tone, Camel/Rich Red, Large Print - Slightly Imperfect
Retail: $74.99
Our Price: $46.74
Save: $28.25 (38%)
Everyday Life Bible: The Power Of God's Word For Everyday Living, Imitation Leather, pewter
Retail: $79.99
Our Price: $53.99
Save: $26.00 (33%)
Amplified Bible, Battlefield Of The Mind Bible, Imitation Leather, Blue
Retail: $79.99
Our Price: $53.99
Save: $26.00 (33%)
Amplified Large-Print Bible, hardcover
Retail: $34.99
Our Price: $20.99
Save: $14.00 (40%)
Battlefield of the Mind New Testament--soft leather-look, arcadia blue
Retail: $24.99
Our Price: $17.49
Save: $7.50 (30%)
Amplified Outreach Bible, Paperback, Case of 24
Retail: $167.76
Our Price: $79.49
Save: $88.27 (53%)