---
Amplified Bible, Classic Edition
Psalm 69
To the Chief Musician; [set to the tune of] "Lilies." [A Psalm] of David.
1 Save me, O God, for the waters have come up to my neck [they threaten my life].
2 I sink in deep mire, where there is no foothold; I have come into deep waters, where the floods overwhelm me.
3 I am weary with my crying; my throat is parched; my eyes fail with waiting [hopefully] for my God.
Read full chapter
Amplified Bible, Classic Edition (AMPC)
Copyright © 1954, 1958, 1962, 1964, 1965, 1987 by The Lockman Foundation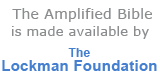 Bible Gateway Recommends
Classic Comparative Side-by-Side Bible (NIV, KJV, NASB, Amplified)
Retail: $54.99
Our Price: $32.99
Save: $22.00 (40%)

Amplified Bible, Battlefield Of The Mind Bible, Hardcover - Slightly Imperfect
Retail: $49.99
Our Price: $23.79
Save: $26.20 (52%)
Amplified Bible, Large Print leather-look, brown/dark brown- index
Retail: $79.99
Our Price: $47.99
Save: $32.00 (40%)

Classic Comparative Side-by-Side Bible (NIV, KJV, NASB, Amplified) , Bonded Leather
Retail: $89.99
Our Price: $52.99
Save: $37.00 (41%)

Amplified Large-Print Bible, hardcover
Retail: $34.99
Our Price: $19.99
Save: $15.00 (43%)