---
Amplified Bible, Classic Edition
5 That Your beloved ones may be delivered, save with Your right hand and answer us [or me].
6 God has spoken in His holiness [in His promises]: I will rejoice, I will divide and portion out [the land] Shechem and the Valley of Succoth [west to east].
7 Gilead is Mine, and Manasseh is Mine; Ephraim also is My helmet (the defense of My head); Judah is My scepter and My lawgiver.
Read full chapter
Amplified Bible, Classic Edition (AMPC)
Copyright © 1954, 1958, 1962, 1964, 1965, 1987 by The Lockman Foundation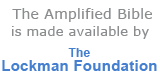 Bible Gateway Recommends
Classic Comparative Side-by-Side Bible (NIV, KJV, NASB, Amplified)
Retail: $54.99
Our Price: $32.99
Save: $22.00 (40%)
Classic Comparative Side-by-Side Bible (NIV, KJV, NASB, Amplified) , Bonded Leather
Retail: $89.99
Our Price: $52.99
Save: $37.00 (41%)
Amplified Study Bible--soft leather-look, purple (indexed)
Retail: $79.99
Our Price: $42.99
Save: $37.00 (46%)
Everyday Life Bible: The Power Of God's Word For Everyday Living, Imitation Leather, pewter
Retail: $79.99
Our Price: $53.99
Save: $26.00 (33%)

Amplified Large-Print Bible, hardcover
Retail: $34.99
Our Price: $22.99
Save: $12.00 (34%)

Amplified Thinline Holy Bible--bonded leather, black (indexed)
Retail: $59.99
Our Price: $35.99
Save: $24.00 (40%)