---
8 Lord, I have so many enemies!
Lead me to do your will;
make your way plain for me to follow.
9 (A)What my enemies say can never be trusted;
they only want to destroy.
Their words are flattering and smooth,
but full of deadly deceit.
10 Condemn and punish them, O God;
may their own plots cause their ruin.
Drive them out of your presence
because of their many sins
and their rebellion against you.
Read full chapter
New International Version
8 Lead me, Lord, in your righteousness(A)
because of my enemies—
make your way straight(B) before me.
9 Not a word from their mouth can be trusted;
their heart is filled with malice.
Their throat is an open grave;(C)
with their tongues they tell lies.(D)
10 Declare them guilty, O God!
Let their intrigues be their downfall.
Banish them for their many sins,(E)
for they have rebelled(F) against you.
Read full chapter
Good News Translation (GNT)
Copyright © 1992 by American Bible Society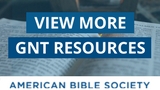 New International Version (NIV)
Holy Bible, New International Version®, NIV® Copyright ©1973, 1978, 1984, 2011 by Biblica, Inc.® Used by permission. All rights reserved worldwide.
NIV Reverse Interlinear Bible: English to Hebrew and English to Greek. Copyright © 2019 by Zondervan.