---
46 1 A song of triumph or thanksgiving for the deliverance of Jerusalem, after Sennacherib with his army was driven away, or some other like sudden and marvelous deliverance by the mighty hand of God. 8 Whereby the Prophet commending this great benefit, doth exhort the faithful to give themselves wholly into the hand of God, doubting nothing but that under his protection they shall be safe against all the assaults of their enemies, because this is his delight to assuage the rage of the wicked, when they are most busy against the just.
To him that excelleth upon [a]Alamoth, a song committed to the sons of Korah.
1 God is our [b]hope and strength, and help in [c]troubles, ready to be found.
2 Therefore will not we [d]fear, though the earth be moved, and though the mountains fall into the midst of the sea,
3 Though the waters thereof [e]rage and be troubled, and the mountains shake at the surges of the same. Selah.
4 Yet there is a [f]River, whose stream shall make glad the City of God: even the Sanctuary of the Tabernacles of the most High.
5 God is in the midst of it: therefore shall it not be moved: God shall help it [g]very early.
6 When the nations raged, and the kingdoms were moved, God [h]thundered, and the earth melted.
7 The Lord of hosts is [i]with us; the God of Jacob is our refuge. Selah.
8 Come and behold the works of the Lord, [j]what desolations he hath made in the earth.
9 He maketh wars to cease unto the ends of the world, he breaketh the bow, and cutteth the spear, and burneth the chariots with fire.
10 Be [k]still and know that I am God, I will be exalted among the heathen, and I will be exalted in the earth.
11 The Lord of hosts is with us; the God of Jacob is our refuge. Selah.
1599 Geneva Bible (GNV)
Geneva Bible, 1599 Edition. Published by Tolle Lege Press. All rights reserved. No part of this publication may be reproduced or transmitted in any form or by any means, electronic or mechanical, without written permission from the publisher, except in the case of brief quotations in articles, reviews, and broadcasts.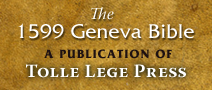 New International Version (NIV)
Holy Bible, New International Version®, NIV® Copyright ©1973, 1978, 1984, 2011 by Biblica, Inc.® Used by permission. All rights reserved worldwide.
NIV Reverse Interlinear Bible: English to Hebrew and English to Greek. Copyright © 2019 by Zondervan.