---
3 Gird thy sword upon thy thigh, O most mighty, to wit, thy worship and thy glory:
4 And prosper with thy glory: [a]ride upon the word of truth and of meekness and of righteousness: so thy right hand shall teach thee terrible things.
5 Thine arrows are sharp to pierce the heart of the King's enemies: therefore the people shall fall under thee.
Read full chapter
Footnotes
Psalm 45:4 He alludeth to them that ride in chariots in their triumphs, showing that the quiet state of a kingdom standeth in truth, meekness and justice, not in worldly pomp and vanity.
New International Version
3 Gird your sword(A) on your side, you mighty one;(B)
clothe yourself with splendor and majesty.(C)
4 In your majesty ride forth victoriously(D)
in the cause of truth, humility and justice;(E)
let your right hand(F) achieve awesome deeds.(G)
5 Let your sharp arrows(H) pierce the hearts(I) of the king's enemies;(J)
let the nations fall beneath your feet.
Read full chapter
1599 Geneva Bible (GNV)
Geneva Bible, 1599 Edition. Published by Tolle Lege Press. All rights reserved. No part of this publication may be reproduced or transmitted in any form or by any means, electronic or mechanical, without written permission from the publisher, except in the case of brief quotations in articles, reviews, and broadcasts.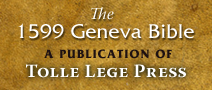 New International Version (NIV)
Holy Bible, New International Version®, NIV® Copyright ©1973, 1978, 1984, 2011 by Biblica, Inc.® Used by permission. All rights reserved worldwide.
NIV Reverse Interlinear Bible: English to Hebrew and English to Greek. Copyright © 2019 by Zondervan.