---
Amplified Bible, Classic Edition
5 Behold, You have made my days as [short as] handbreadths, and my lifetime is as nothing in Your sight. Truly every man at his best is merely a breath! Selah [pause, and think calmly of that]!
6 Surely every man walks to and fro—like a shadow in a pantomime; surely for futility and emptiness he is in turmoil; each one heaps up riches, not knowing who will gather them.(A)
7 And now, Lord, what do I wait for and expect? My hope and expectation are in You.
Read full chapter
Amplified Bible, Classic Edition (AMPC)
Copyright © 1954, 1958, 1962, 1964, 1965, 1987 by The Lockman Foundation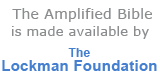 Bible Gateway Recommends
Classic Comparative Side-by-Side Bible (NIV, KJV, NASB, Amplified)
Retail: $54.99
Our Price: $35.99
Save: $19.00 (35%)

Amplified Thinline Holy Bible--bonded leather, burgundy
Retail: $49.99
Our Price: $31.99
Save: $18.00 (36%)

Amplified Study Bible, Large Print, Imitation Leather, Brown
Retail: $69.99
Our Price: $45.99
Save: $24.00 (34%)

Amplified Compact Holy Bible--soft leather-look, camel/burgundy
Retail: $34.99
Our Price: $22.99
Save: $12.00 (34%)

Amplified Outreach Bible, Paperback, Case of 24
Retail: $167.76
Our Price: $79.49
Save: $88.27 (53%)
Amplified & NKJV Parallel Bible Bonded Leather, Black, Large Print
Retail: $69.95
Our Price: $39.99
Save: $29.96 (43%)