---
6 [a]And now shall he lift up mine head above mine enemies round about me: therefore will I offer in his Tabernacle sacrifices of joy: I will sing and praise the Lord.
7 Hearken unto my voice, O Lord, when I cry: have mercy also upon me and hear me.
8 When thou saidest, [b]Seek ye my face, mine heart answered unto thee, O Lord, I will seek thy face.
Read full chapter
Footnotes
Psalm 27:6 David assured himself by the Spirit of prophecy that he should overcome his enemies, and serve God in his Tabernacle.
Psalm 27:8 He groundeth upon God's promise, and showeth that he is most willing to obey his commandment.
New International Version
6 Then my head will be exalted(A)
above the enemies who surround me;(B)
at his sacred tent I will sacrifice(C) with shouts of joy;(D)
I will sing(E) and make music(F) to the Lord.
7 Hear my voice(G) when I call, Lord;
be merciful to me and answer me.(H)
8 My heart says of you, "Seek his face!(I)"
Your face, Lord, I will seek.
Read full chapter
1599 Geneva Bible (GNV)
Geneva Bible, 1599 Edition. Published by Tolle Lege Press. All rights reserved. No part of this publication may be reproduced or transmitted in any form or by any means, electronic or mechanical, without written permission from the publisher, except in the case of brief quotations in articles, reviews, and broadcasts.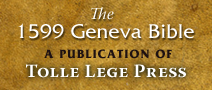 New International Version (NIV)
Holy Bible, New International Version®, NIV® Copyright ©1973, 1978, 1984, 2011 by Biblica, Inc.® Used by permission. All rights reserved worldwide.
NIV Reverse Interlinear Bible: English to Hebrew and English to Greek. Copyright © 2019 by Zondervan.