---
Amplified Bible, Classic Edition
3 Remember all your offerings and accept your burnt sacrifice. Selah [pause, and think of that]!
4 May He grant you according to your heart's desire and fulfill all your plans.
5 We will [shout in] triumph at your salvation and victory, and in the name of our God we will set up our banners. May the Lord fulfill all your petitions.
Read full chapter
New International Version
3 May he remember(A) all your sacrifices
and accept your burnt offerings.[a](B)
4 May he give you the desire of your heart(C)
and make all your plans succeed.(D)
5 May we shout for joy(E) over your victory
and lift up our banners(F) in the name of our God.
May the Lord grant all your requests.(G)
Read full chapter
Footnotes
Psalm 20:3 The Hebrew has Selah (a word of uncertain meaning) here.
Amplified Bible, Classic Edition (AMPC)
Copyright © 1954, 1958, 1962, 1964, 1965, 1987 by The Lockman Foundation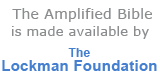 New International Version (NIV)
Holy Bible, New International Version®, NIV® Copyright ©1973, 1978, 1984, 2011 by Biblica, Inc.® Used by permission. All rights reserved worldwide.
NIV Reverse Interlinear Bible: English to Hebrew and English to Greek. Copyright © 2019 by Zondervan.