---
Psalm 16
A psalm[a] of David.
1 Keep me safe, O God,
for I have come to you for refuge.
2 I said to the Lord, "You are my Master!
Every good thing I have comes from you."
3 The godly people in the land
are my true heroes!
I take pleasure in them!
4 Troubles multiply for those who chase after other gods.
I will not take part in their sacrifices of blood
or even speak the names of their gods.
5 Lord, you alone are my inheritance, my cup of blessing.
You guard all that is mine.
6 The land you have given me is a pleasant land.
What a wonderful inheritance!
7 I will bless the Lord who guides me;
even at night my heart instructs me.
8 I know the Lord is always with me.
I will not be shaken, for he is right beside me.
9 No wonder my heart is glad, and I rejoice.[b]
My body rests in safety.
10 For you will not leave my soul among the dead[c]
or allow your holy one[d] to rot in the grave.
11 You will show me the way of life,
granting me the joy of your presence
and the pleasures of living with you forever.[e]
New International Version
A David Song
16 1-2 Keep me safe, O God,
I've run for dear life to you.
I say to God, "Be my Lord!"
Without you, nothing makes sense.
3 And these God-chosen lives all around—
what splendid friends they make!
4 Don't just go shopping for a god.
Gods are not for sale.
I swear I'll never treat god-names
like brand-names.
5-6 My choice is you, God, first and only.
And now I find I'm your choice!
You set me up with a house and yard.
And then you made me your heir!
7-8 The wise counsel God gives when I'm awake
is confirmed by my sleeping heart.
Day and night I'll stick with God;
I've got a good thing going and I'm not letting go.
9-10 I'm happy from the inside out,
and from the outside in, I'm firmly formed.
You canceled my ticket to hell—
that's not my destination!
11 Now you've got my feet on the life path,
all radiant from the shining of your face.
Ever since you took my hand,
I'm on the right way.
New Living Translation (NLT)
Holy Bible, New Living Translation, copyright © 1996, 2004, 2015 by Tyndale House Foundation. Used by permission of Tyndale House Publishers, Inc., Carol Stream, Illinois 60188. All rights reserved.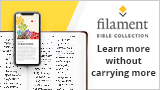 New International Version (NIV)
Holy Bible, New International Version®, NIV® Copyright ©1973, 1978, 1984, 2011 by Biblica, Inc.® Used by permission. All rights reserved worldwide.
NIV Reverse Interlinear Bible: English to Hebrew and English to Greek. Copyright © 2019 by Zondervan.