---
Thanksgiving for the Lord's Favor.
A Psalm of David.
138 I will give You thanks with all my heart;
I sing praises to You before the [pagan] gods.
2 
I will bow down [in worship] toward Your holy temple
And give thanks to Your name for Your lovingkindness and Your truth;
For You have magnified Your word together with Your name.
3 
On the day I called, You answered me;
And You made me bold and confident with [renewed] strength in my life.
4 
All the kings of the land will give thanks and praise You, O Lord,
When they have heard of the promises of Your mouth [which were fulfilled].
5 
Yes, they will sing of the ways of the Lord [joyfully celebrating His wonderful acts],
For great is the glory and majesty of the Lord.
6 
Though the Lord is exalted,
He regards the lowly [and invites them into His fellowship];
But the proud and haughty He knows from a distance.(A)
7 
Though I walk in the midst of trouble, You will revive me;
You will stretch out Your hand against the wrath of my enemies,
And Your right hand will save me.(B)
8 
The Lord will accomplish that which concerns me;
Your [unwavering] lovingkindness, O Lord, endures forever—
Do not abandon the works of Your own hands.(C)
New International Version
Psalm 138
Of David.
1 I will praise you, Lord, with all my heart;
before the "gods"(A) I will sing(B) your praise.
2 I will bow down toward your holy temple(C)
and will praise your name(D)
for your unfailing love and your faithfulness,(E)
for you have so exalted your solemn decree
that it surpasses your fame.(F)
3 When I called,(G) you answered me;(H)
you greatly emboldened(I) me.
4 May all the kings of the earth(J) praise you, Lord,
when they hear what you have decreed.
5 May they sing(K) of the ways of the Lord,
for the glory of the Lord(L) is great.
6 Though the Lord is exalted, he looks kindly on the lowly;(M)
though lofty, he sees them(N) from afar.
7 Though I walk(O) in the midst of trouble,
you preserve my life.(P)
You stretch out your hand(Q) against the anger of my foes;(R)
with your right hand(S) you save me.(T)
8 The Lord will vindicate(U) me;
your love, Lord, endures forever(V)—
do not abandon(W) the works of your hands.(X)
Amplified Bible (AMP)
Copyright © 2015 by The Lockman Foundation, La Habra, CA 90631. All rights reserved.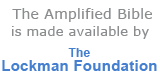 New International Version (NIV)
Copyright © 1973, 1978, 1984, 2011 by Biblica
NIV Reverse Interlinear Bible: English to Hebrew and English to Greek. Copyright © 2019 by Zondervan.