---
8 Let the rivers clap their hands in glee!
Let the hills sing out their songs of joy
Read full chapter
12 You will live in joy and peace.
The mountains and hills will burst into song,
and the trees of the field will clap their hands!
Read full chapter
3 The floods have risen up, O Lord.
The floods have roared like thunder;
the floods have lifted their pounding waves.
Read full chapter
12 You created north and south.
Mount Tabor and Mount Hermon praise your name.
Read full chapter
12 The grasslands of the wilderness become a lush pasture,
and the hillsides blossom with joy.
13 The meadows are clothed with flocks of sheep,
and the valleys are carpeted with grain.
They all shout and sing for joy!
Read full chapter
Psalm 47
For the choir director: A psalm of the descendants of Korah.
1 Come, everyone! Clap your hands!
Shout to God with joyful praise!
Read full chapter
12 Then Jehoiada brought out Joash, the king's son, placed the crown on his head, and presented him with a copy of God's laws.[a] They anointed him and proclaimed him king, and everyone clapped their hands and shouted, "Long live the king!"
Read full chapter
Footnotes
11:12 Or a copy of the covenant.
New Living Translation (NLT)
Holy Bible, New Living Translation, copyright © 1996, 2004, 2015 by Tyndale House Foundation. Used by permission of Tyndale House Publishers, Inc., Carol Stream, Illinois 60188. All rights reserved.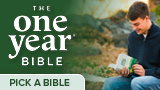 Bible Gateway Recommends
NLT Premium Value Slimline Bible, Large Print, Cross, Imitation Leather, Sienna with Cross Design
Retail: $19.99
Our Price: $15.99
Save: $4.00 (20%)

NLT Girls Life Application Study Bible--soft leather-look, teal/pink with flowers
Retail: $44.99
Our Price: $36.99
Save: $8.00 (18%)

NLT Large-Print Premium Value Thinline Bible, Filament Enabled Edition--soft leather-look, teal
Retail: $19.99
Our Price: $15.99
Save: $4.00 (20%)
NLT Giant-Print Personal-Size Bible, Filament Enabled Edition--soft leather-look, rustic brown
Retail: $29.99
Our Price: $21.99
Save: $8.00 (27%)
NLT Teen Life Application Study Bible, Softcover
Retail: $22.99
Our Price: $18.99
Save: $4.00 (17%)

NLT Premium Value Thinline Bible, Filament Enabled Edition--soft leather-look, teal
Retail: $14.99
Our Price: $12.49
Save: $2.50 (17%)