---
31 2 He exhorteth to chastity and justice, 10 and showeth the conditions of a wise and worthy woman.
1 THE WORDS OF KING [a]LEMUEL: The [b]prophecy which his mother taught him.
2 What my son! and what the son of [c]my womb! and what, O son of my desires!
3 Give not thy strength unto women, [d]nor thy ways which is to destroy kings.
4 It is not for kings, O Lemuel, it is not for kings to drink wine, nor for princes [e]strong drink,
5 Lest he drink and forget the decree, and change the judgment of all the children of affliction.
6 Give ye strong drink unto him that is ready to perish, and wine unto them that have grief of heart.
7 Let him drink, that he may forget [f]his poverty, and remember his misery no more.
8 Open thy mouth for the [g]dumb in the cause of all the children of destruction.
9 Open thy mouth, judge righteously, and judge the afflicted, and the poor.
10 ¶ Who shall find a virtuous woman? for her price is far above the pearls.
11 The heart of her husband trusteth in her, and he shall have no need of [h]spoil.
12 She will do him good, and not evil all the days of her life.
13 She seeketh wool and flax, and laboreth cheerfully with her hands.
14 She is like the ships of merchants: she bringeth her food from afar.
15 And she ariseth, while it is yet night: and giveth [i]the portion to her household, and the [j]ordinary to her maids.
16 She considereth a field, and [k]getteth it: and with the fruit of her hands she planteth a vineyard.
17 She girdeth her loins with strength, and strengtheneth her arms.
18 She feeleth that her merchandise is good: her candle is not put out by night.
19 She putteth her hands to the wheel, and her hands handle the spindle.
20 She stretcheth out her hand to the poor, and putteth forth her hands to the needy.
21 She feareth not the snow for her family: for all her family is clothed with [l]scarlet.
22 She maketh herself carpets: fine linen and purple is her garment.
23 Her husband is known in the [m]gates, when he sitteth with the Elders of the land.
24 She maketh [n]sheets, and selleth them, and giveth girdles unto the merchant.
25 [o]Strength and honor is her clothing, and in the latter day she shall rejoice.
26 She openeth her mouth with wisdom, and the [p]law of grace is in her tongue.
27 She overseeth the ways of her household, and eateth not the bread of idleness.
28 Her children rise up, and [q]call her blessed: her husband also shall praise her, saying,
29 Many daughters have done virtuously: but thou surmountest them all.
30 Favor is deceitful, and beauty is vanity: but a woman that feareth the Lord she shall be praised.
31 Give [r]her of the fruit of her hands, and let her own works praise her in the [s]gates.
New International Version
Sayings of King Lemuel
31 The sayings(A) of King Lemuel—an inspired utterance his mother taught him.
Epilogue: The Wife of Noble Character
Footnotes
Proverbs 31:3 Or wealth
Proverbs 31:10 Verses 10-31 are an acrostic poem, the verses of which begin with the successive letters of the Hebrew alphabet.
1599 Geneva Bible (GNV)
Geneva Bible, 1599 Edition. Published by Tolle Lege Press. All rights reserved. No part of this publication may be reproduced or transmitted in any form or by any means, electronic or mechanical, without written permission from the publisher, except in the case of brief quotations in articles, reviews, and broadcasts.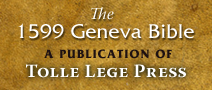 New International Version (NIV)
Holy Bible, New International Version®, NIV® Copyright ©1973, 1978, 1984, 2011 by Biblica, Inc.® Used by permission. All rights reserved worldwide.
NIV Reverse Interlinear Bible: English to Hebrew and English to Greek. Copyright © 2019 by Zondervan.