---
Another Warning about Immoral Women
7 Follow my advice, my son;
always treasure my commands.
2 Obey my commands and live!
Guard my instructions as you guard your own eyes.[a]
3 Tie them on your fingers as a reminder.
Write them deep within your heart.
4 Love wisdom like a sister;
make insight a beloved member of your family.
5 Let them protect you from an affair with an immoral woman,
from listening to the flattery of a promiscuous woman.
6 While I was at the window of my house,
looking through the curtain,
7 I saw some naive young men,
and one in particular who lacked common sense.
8 He was crossing the street near the house of an immoral woman,
strolling down the path by her house.
9 It was at twilight, in the evening,
as deep darkness fell.
10 The woman approached him,
seductively dressed and sly of heart.
11 She was the brash, rebellious type,
never content to stay at home.
12 She is often in the streets and markets,
soliciting at every corner.
13 She threw her arms around him and kissed him,
and with a brazen look she said,
14 "I've just made my peace offerings
and fulfilled my vows.
15 You're the one I was looking for!
I came out to find you, and here you are!
16 My bed is spread with beautiful blankets,
with colored sheets of Egyptian linen.
17 I've perfumed my bed
with myrrh, aloes, and cinnamon.
18 Come, let's drink our fill of love until morning.
Let's enjoy each other's caresses,
19 for my husband is not home.
He's away on a long trip.
20 He has taken a wallet full of money with him
and won't return until later this month.[b]"
21 So she seduced him with her pretty speech
and enticed him with her flattery.
22 He followed her at once,
like an ox going to the slaughter.
He was like a stag caught in a trap,[c]
23  awaiting the arrow that would pierce its heart.
He was like a bird flying into a snare,
little knowing it would cost him his life.
24 So listen to me, my sons,
and pay attention to my words.
25 Don't let your hearts stray away toward her.
Don't wander down her wayward path.
26 For she has been the ruin of many;
many men have been her victims.
27 Her house is the road to the grave.[d]
Her bedroom is the den of death.
Wisdom Calls for a Hearing
8 Listen as Wisdom calls out!
Hear as understanding raises her voice!
2 On the hilltop along the road,
she takes her stand at the crossroads.
3 By the gates at the entrance to the town,
on the road leading in, she cries aloud,
4 "I call to you, to all of you!
I raise my voice to all people.
5 You simple people, use good judgment.
You foolish people, show some understanding.
6 Listen to me! For I have important things to tell you.
Everything I say is right,
7 for I speak the truth
and detest every kind of deception.
8 My advice is wholesome.
There is nothing devious or crooked in it.
9 My words are plain to anyone with understanding,
clear to those with knowledge.
10 Choose my instruction rather than silver,
and knowledge rather than pure gold.
11 For wisdom is far more valuable than rubies.
Nothing you desire can compare with it.
12 "I, Wisdom, live together with good judgment.
I know where to discover knowledge and discernment.
13 All who fear the Lord will hate evil.
Therefore, I hate pride and arrogance,
corruption and perverse speech.
14 Common sense and success belong to me.
Insight and strength are mine.
15 Because of me, kings reign,
and rulers make just decrees.
16 Rulers lead with my help,
and nobles make righteous judgments.[e]
17 "I love all who love me.
Those who search will surely find me.
18 I have riches and honor,
as well as enduring wealth and justice.
19 My gifts are better than gold, even the purest gold,
my wages better than sterling silver!
20 I walk in righteousness,
in paths of justice.
21 Those who love me inherit wealth.
I will fill their treasuries.
22 "The Lord formed me from the beginning,
before he created anything else.
23 I was appointed in ages past,
at the very first, before the earth began.
24 I was born before the oceans were created,
before the springs bubbled forth their waters.
25 Before the mountains were formed,
before the hills, I was born—
26 before he had made the earth and fields
and the first handfuls of soil.
27 I was there when he established the heavens,
when he drew the horizon on the oceans.
28 I was there when he set the clouds above,
when he established springs deep in the earth.
29 I was there when he set the limits of the seas,
so they would not spread beyond their boundaries.
And when he marked off the earth's foundations,
30  I was the architect at his side.
I was his constant delight,
rejoicing always in his presence.
31 And how happy I was with the world he created;
how I rejoiced with the human family!
32 "And so, my children,[f] listen to me,
for all who follow my ways are joyful.
33 Listen to my instruction and be wise.
Don't ignore it.
34 Joyful are those who listen to me,
watching for me daily at my gates,
waiting for me outside my home!
35 For whoever finds me finds life
and receives favor from the Lord.
36 But those who miss me injure themselves.
All who hate me love death."
9 Wisdom has built her house;
she has carved its seven columns.
2 She has prepared a great banquet,
mixed the wines, and set the table.
3 She has sent her servants to invite everyone to come.
She calls out from the heights overlooking the city.
4 "Come in with me," she urges the simple.
To those who lack good judgment, she says,
5 "Come, eat my food,
and drink the wine I have mixed.
6 Leave your simple ways behind, and begin to live;
learn to use good judgment."
7 Anyone who rebukes a mocker will get an insult in return.
Anyone who corrects the wicked will get hurt.
8 So don't bother correcting mockers;
they will only hate you.
But correct the wise,
and they will love you.
9 Instruct the wise,
and they will be even wiser.
Teach the righteous,
and they will learn even more.
10 Fear of the Lord is the foundation of wisdom.
Knowledge of the Holy One results in good judgment.
11 Wisdom will multiply your days
and add years to your life.
12 If you become wise, you will be the one to benefit.
If you scorn wisdom, you will be the one to suffer.
Folly Calls for a Hearing
13 The woman named Folly is brash.
She is ignorant and doesn't know it.
14 She sits in her doorway
on the heights overlooking the city.
15 She calls out to men going by
who are minding their own business.
16 "Come in with me," she urges the simple.
To those who lack good judgment, she says,
17 "Stolen water is refreshing;
food eaten in secret tastes the best!"
18 But little do they know that the dead are there.
Her guests are in the depths of the grave.[g]
New Living Translation (NLT)
Holy Bible, New Living Translation, copyright © 1996, 2004, 2015 by Tyndale House Foundation. Used by permission of Tyndale House Publishers, Inc., Carol Stream, Illinois 60188. All rights reserved.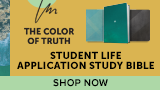 Bible Gateway Recommends
NLT Inspire FAITH Bible, Filament Enabled Edition, LeatherLike, Pink Watercolor Garden
Retail: $74.99
Our Price: $59.99
Save: $15.00 (20%)
NLT Life Recovery Bible, Personal Size
Retail: $22.99
Our Price: $16.99
Save: $6.00 (26%)
NLT Inspire PRAISE Bible
Retail: $49.99
Our Price: $32.49
Save: $17.50 (35%)
NLT Premium Value Thinline Bible, Filament Enabled Edition--soft leather-look, teal
Retail: $17.99
Our Price: $14.49
Save: $3.50 (19%)
NLT Life Recovery Bible, Large Print
Retail: $34.99
Our Price: $27.99
Save: $7.00 (20%)
NLT Student Life Application Study Bible, Filament Enabled Edition, LeatherLike, Charcoal Gray Striped, Indexed
Retail: $59.99
Our Price: $43.99
Save: $16.00 (27%)