---
13 There is a generation—oh, how (A)lofty are their eyes!
And their eyelids are [a]lifted up.
14 (B)There is a generation whose teeth are like swords,
And whose fangs are like knives,
(C)To devour the poor from off the earth,
And the needy from among men.
15 The leech has two daughters—
Give and Give!
There are three things that are never satisfied,
Four never say, "Enough!":
Read full chapter
New King James Version (NKJV)
Scripture taken from the New King James Version®. Copyright © 1982 by Thomas Nelson. Used by permission. All rights reserved.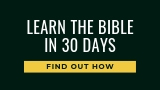 Bible Gateway Recommends
NKJV, Journal the Word Bible, Large Print, Red Letter Edition: Reflect, Journal, or Create Art Next to Your Favorite Verses
Retail: $54.99
Our Price: $38.49
Save: $16.50 (30%)
NKJV, Lucado Encouraging Word Bible, Comfort Print: Holy Bible, New King James Version
Retail: $79.98
Our Price: $55.99
Save: $23.99 (30%)
NKJV, Abide Bible, Red Letter Edition, Comfort Print: Holy Bible, New King James Version
Retail: $79.98
Our Price: $47.99
Save: $31.99 (40%)
NKJV, Bride's Bible, Leathersoft, White, Red Letter Edition, Comfort Print: Holy Bible, New King James Version
Retail: $24.99
Our Price: $14.99
Save: $10.00 (40%)