---
8 
He who increases his wealth by interest and usury (excessive interest)
Gathers it for him who is gracious to the poor.(A)
9 
He who turns his ear away from listening to the law [of God and man],
Even his prayer is repulsive [to God].(B)
10 
He who leads the upright astray on an evil path
Will himself fall into his own pit,
But the blameless will inherit good.
Read full chapter
New International Version
8 Whoever increases wealth by taking interest(A) or profit from the poor
amasses it for another,(B) who will be kind to the poor.(C)
9 If anyone turns a deaf ear to my instruction,
even their prayers are detestable.(D)
10 Whoever leads the upright along an evil path
will fall into their own trap,(E)
but the blameless will receive a good inheritance.
Read full chapter
Amplified Bible (AMP)
Copyright © 2015 by The Lockman Foundation, La Habra, CA 90631. All rights reserved.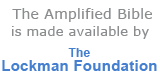 New International Version (NIV)
Holy Bible, New International Version®, NIV® Copyright ©1973, 1978, 1984, 2011 by Biblica, Inc.® Used by permission. All rights reserved worldwide.
NIV Reverse Interlinear Bible: English to Hebrew and English to Greek. Copyright © 2019 by Zondervan.