---
Amplified Bible, Classic Edition
19 Better is a poor man who walks in his integrity than a rich man who is perverse in his speech and is a [self-confident] fool.
2 Desire without knowledge is not good, and to be overhasty is to sin and miss the mark.
3 The foolishness of man subverts his way [ruins his affairs]; then his heart is resentful and frets against the Lord.
Read full chapter
Amplified Bible, Classic Edition (AMPC)
Copyright © 1954, 1958, 1962, 1964, 1965, 1987 by The Lockman Foundation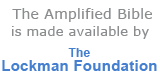 Bible Gateway Recommends
Battlefield of the Mind New Testament--soft leather-look, arcadia blue
Retail: $24.99
Our Price: $17.49
Save: $7.50 (30%)
Amplified Study Bible, Large Print, Imitation Leather, Brown
Retail: $69.99
Our Price: $45.99
Save: $24.00 (34%)
Amplified Bible, Battlefield of the Mind: Psalms and Proverbs Imitation Leather
Retail: $19.00
Our Price: $13.49
Save: $5.51 (29%)
Amplified Compact Holy Bible--soft leather-look, camel/burgundy
Retail: $34.99
Our Price: $22.99
Save: $12.00 (34%)
Amplified Outreach Bible, Paperback, Case of 24
Retail: $167.76
Our Price: $79.49
Save: $88.27 (53%)
Amplified Holy Bible, XL Edition--soft leather-look, brown
Retail: $49.99
Our Price: $31.99
Save: $18.00 (36%)