---
Amplified Bible, Classic Edition
13 Right and just lips are the delight of a king, and he loves him who speaks what is right.
14 The wrath of a king is as messengers of death, but a wise man will pacify it.
15 In the light of the king's countenance is life, and his favor is as a cloud bringing the spring rain.
Read full chapter
Amplified Bible, Classic Edition (AMPC)
Copyright © 1954, 1958, 1962, 1964, 1965, 1987 by The Lockman Foundation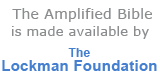 Bible Gateway Recommends
Amplified Outreach Bible, Paperback
Retail: $6.99
Our Price: $3.99
Save: $3.00 (43%)

Battlefield of the Mind Bible, Amplified Version - Hardcover
Retail: $49.99
Our Price: $27.99
Save: $22.00 (44%)

Battlefield of the Mind Bible: Renew Your Mind Through the Power of God's Word, Imitation Leather, pink
Retail: $79.99
Our Price: $54.99
Save: $25.00 (31%)

Amplified Reading Bible, Imitation Leather, Brown, Indexed
Retail: $59.99
Our Price: $35.99
Save: $24.00 (40%)
Classic Comparative Side-by-Side Bible (NIV, KJV, NASB, Amplified) , Bonded Leather
Retail: $89.99
Our Price: $52.99
Save: $37.00 (41%)