---
Contemporary English Version
True Humility
2 Christ encourages you, and his love comforts you. God's Spirit unites you, and you are concerned for others. 2 Now make me completely happy! Live in harmony by showing love for each other. Be united in what you think, as if you were only one person. 3 Don't be jealous or proud, but be humble and consider others more important than yourselves. 4 Care about them as much as you care about yourselves 5 and think the same way that Christ Jesus thought:[a]
6 Christ was truly God.
But he did not try to remain[b]
equal with God.
7 Instead he gave up everything[c]
and became a slave,
when he became
like one of us.
8 Christ was humble.
He obeyed God
and even died
on a cross.
9 Then God gave Christ
the highest place
and honored his name
above all others.
10 So at the name of Jesus
everyone will bow down,
those in heaven, on earth,
and under the earth.
11 And to the glory
of God the Father
everyone will openly agree,
"Jesus Christ is Lord!"
Lights in the World
12 My dear friends, you always obeyed when I was with you. Now that I am away, you should obey even more. So work with fear and trembling to discover what it really means to be saved. 13 God is working in you to make you willing and able to obey him.
14 Do everything without grumbling or arguing. 15 Then you will be the pure and innocent children of God. You live among people who are crooked and evil, but you must not do anything that they can say is wrong. Try to shine as lights among the people of this world, 16 as you hold firmly to[d] the message that gives life. Then on the day when Christ returns, I can take pride in you. I can also know that my work and efforts were not useless.
17 Your faith in the Lord and your service are like a sacrifice offered to him. And my own blood may have to be poured out with the sacrifice.[e] If this happens, I will be glad and rejoice with you. 18 In the same way, you should be glad and rejoice with me.
Timothy and Epaphroditus
19 I want to be encouraged by news about you. So I hope the Lord Jesus will soon let me send Timothy to you. 20 I don't have anyone else who cares about you as much as he does. 21 The others think only about what interests them and not about what concerns Christ Jesus. 22 But you know what kind of person Timothy is. He has worked with me like a son in spreading the good news. 23 I hope to send him to you, as soon as I find out what is going to happen to me. 24 And I feel sure that the Lord will also let me come soon.
25 I think I ought to send my dear friend Epaphroditus back to you. He is a follower and a worker and a soldier of the Lord, just as I am. You sent him to look after me, 26 but now he is eager to see you. He is worried, because you heard he was sick. 27 In fact, he was very sick and almost died. But God was kind to him, and also to me, and he kept me from being burdened down with sorrow.
28 Now I am more eager than ever to send Epaphroditus back again. You will be glad to see him, and I won't have to worry any longer. 29 Be sure to give him a cheerful welcome, just as people who serve the Lord deserve. 30 He almost died working for Christ, and he risked his own life to do for me what you could not.
New International Version
Imitating Christ's Humility
2 Therefore if you have any encouragement from being united with Christ, if any comfort from his love, if any common sharing in the Spirit,(A) if any tenderness and compassion,(B) 2 then make my joy complete(C) by being like-minded,(D) having the same love, being one(E) in spirit and of one mind. 3 Do nothing out of selfish ambition or vain conceit.(F) Rather, in humility value others above yourselves,(G) 4 not looking to your own interests but each of you to the interests of the others.(H)
5 In your relationships with one another, have the same mindset as Christ Jesus:(I)
6 Who, being in very nature[a] God,(J)
did not consider equality with God(K) something to be used to his own advantage;
7 rather, he made himself nothing(L)
by taking the very nature[b] of a servant,(M)
being made in human likeness.(N)
8 And being found in appearance as a man,
he humbled himself
by becoming obedient to death(O)—
even death on a cross!(P)
9 Therefore God exalted him(Q) to the highest place
and gave him the name that is above every name,(R)
10 that at the name of Jesus every knee should bow,(S)
in heaven and on earth and under the earth,(T)
11 and every tongue acknowledge that Jesus Christ is Lord,(U)
to the glory of God the Father.
Do Everything Without Grumbling
12 Therefore, my dear friends, as you have always obeyed—not only in my presence, but now much more in my absence—continue to work out your salvation with fear and trembling,(V) 13 for it is God who works in you(W) to will and to act in order to fulfill his good purpose.(X)
14 Do everything without grumbling(Y) or arguing, 15 so that you may become blameless(Z) and pure, "children of God(AA) without fault in a warped and crooked generation."[c](AB) Then you will shine among them like stars in the sky 16 as you hold firmly to the word of life. And then I will be able to boast on the day of Christ(AC) that I did not run(AD) or labor in vain.(AE) 17 But even if I am being poured out like a drink offering(AF) on the sacrifice(AG) and service coming from your faith, I am glad and rejoice with all of you.(AH) 18 So you too should be glad and rejoice with me.
Timothy and Epaphroditus
19 I hope in the Lord Jesus to send Timothy(AI) to you soon,(AJ) that I also may be cheered when I receive news about you. 20 I have no one else like him,(AK) who will show genuine concern for your welfare. 21 For everyone looks out for their own interests,(AL) not those of Jesus Christ. 22 But you know that Timothy has proved himself, because as a son with his father(AM) he has served with me in the work of the gospel. 23 I hope, therefore, to send him as soon as I see how things go with me.(AN) 24 And I am confident(AO) in the Lord that I myself will come soon.
25 But I think it is necessary to send back to you Epaphroditus, my brother, co-worker(AP) and fellow soldier,(AQ) who is also your messenger, whom you sent to take care of my needs.(AR) 26 For he longs for all of you(AS) and is distressed because you heard he was ill. 27 Indeed he was ill, and almost died. But God had mercy on him, and not on him only but also on me, to spare me sorrow upon sorrow. 28 Therefore I am all the more eager to send him,(AT) so that when you see him again you may be glad and I may have less anxiety. 29 So then, welcome him in the Lord with great joy, and honor people like him,(AU) 30 because he almost died for the work of Christ. He risked his life to make up for the help you yourselves could not give me.(AV)
Contemporary English Version (CEV)
Copyright © 1995 by American Bible Society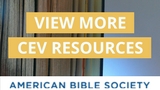 New International Version (NIV)
Holy Bible, New International Version®, NIV® Copyright ©1973, 1978, 1984, 2011 by Biblica, Inc.® Used by permission. All rights reserved worldwide.
NIV Reverse Interlinear Bible: English to Hebrew and English to Greek. Copyright © 2019 by Zondervan.