---
Amplified Bible, Classic Edition
6 And I am convinced and sure of this very thing, that He Who began a good work in you will continue until the day of Jesus Christ [right up to the time of His return], developing [that good work] and perfecting and bringing it to full completion in you.
7 It is right and appropriate for me to have this confidence and feel this way about you all, because [a]you have me in your heart and I hold you in my heart as partakers and sharers, one and all with me, of grace (God's unmerited favor and spiritual blessing). [This is true] both when I am shut up in prison and when I am out in the defense and confirmation of the good news (the Gospel).
8 For God is my witness how I long for and [b]pursue you all with love, in the tender mercy of Christ Jesus [Himself]!
Read full chapter
Amplified Bible, Classic Edition (AMPC)
Copyright © 1954, 1958, 1962, 1964, 1965, 1987 by The Lockman Foundation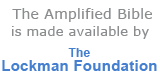 Bible Gateway Recommends
Battlefield of the Mind Bible: Renew Your Mind Through the Power of God's Word
Retail: $29.99
Our Price: $19.99
Save: $10.00 (33%)
Classic Comparative Side-by-Side Bible (NIV, KJV, NASB, Amplified) - Slightly Imperfect
Retail: $54.99
Our Price: $30.59
Save: $24.40 (44%)
Amplified Compact Holy Bible, hardcover
Retail: $14.99
Our Price: $9.99
Save: $5.00 (33%)
Classic Comparative Side-by-Side Bible (NIV, KJV, NASB, Amplified)
Retail: $54.99
Our Price: $35.99
Save: $19.00 (35%)
Amplified Bible, Battlefield Of The Mind Bible, Imitation Leather, Blue
Retail: $79.99
Our Price: $53.99
Save: $26.00 (33%)
Amplified Study Bible, Hardcover
Retail: $44.99
Our Price: $25.99
Save: $19.00 (42%)