---
Amplified Bible, Classic Edition
20 And sometimes the cloud was only a few days upon the tabernacle, but according to the command of the Lord they remained encamped, and at His command they journeyed.
21 And sometimes the cloud remained [over the tabernacle] from evening only until morning, but when the cloud was taken up, they journeyed; whether it was taken up by day or by night, they journeyed.
22 Whether it was two days or a month or a longer time that the cloud tarried upon the tabernacle, dwelling on it, the Israelites remained encamped; but when it was taken up, they journeyed.
Read full chapter
Amplified Bible, Classic Edition (AMPC)
Copyright © 1954, 1958, 1962, 1964, 1965, 1987 by The Lockman Foundation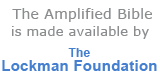 Bible Gateway Recommends
Amplified Study Bible, Hardcover
Retail: $44.99
Our Price: $27.49
Save: $17.50 (39%)

Amplified Study Bible, Large Print, Imitation Leather, Brown
Retail: $69.99
Our Price: $43.49
Save: $26.50 (38%)

Amplified Reading Bible, Imitation Leather, Brown, Indexed
Retail: $59.99
Our Price: $38.99
Save: $21.00 (35%)

Amplified Thinline Holy Bible--bonded leather, black - Imperfectly Imprinted Bibles
Retail: $49.99
Our Price: $17.59
Save: $32.40 (65%)
Amplified Topical Reference Bible, Bonded Leather, Black
Retail: $69.99
Our Price: $37.99
Save: $32.00 (46%)
KJV and Amplified Parallel Bible, Large Print, Bonded Leather, Black
Retail: $79.99
Our Price: $51.99
Save: $28.00 (35%)