---
Offerings of the Seventh Month
29 'On the [a]first day of the seventh month, you shall have a holy [summoned] assembly; you shall do no laborious work. It will be for you a day of blowing the trumpets (the shophar, ram's horn). 2 You shall offer a burnt offering as a sweet and soothing aroma to the Lord: one bull, one ram, and seven male lambs one year old without blemish;
Read full chapter
Footnotes
Numbers 29:1 Later in Jewish culture this became Rosh Hashanah (New Year's Day).
New International Version
The Festival of Trumpets(A)
29 "'On the first day of the seventh month hold a sacred assembly and do no regular work.(B) It is a day for you to sound the trumpets. 2 As an aroma pleasing to the Lord,(C) offer a burnt offering(D) of one young bull, one ram and seven male lambs a year old,(E) all without defect.(F)
Read full chapter
Amplified Bible (AMP)
Copyright © 2015 by The Lockman Foundation, La Habra, CA 90631. All rights reserved.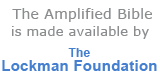 New International Version (NIV)
Holy Bible, New International Version®, NIV® Copyright ©1973, 1978, 1984, 2011 by Biblica, Inc.® Used by permission. All rights reserved worldwide.
NIV Reverse Interlinear Bible: English to Hebrew and English to Greek. Copyright © 2019 by Zondervan.