---
61 But Nadab and Abihu died when they burned before the Lord the wrong kind of fire, different than he had commanded.
62 The men from the Levite clans who were one month old or older numbered 23,000. But the Levites were not included in the registration of the rest of the people of Israel because they were not given an allotment of land when it was divided among the Israelites.
63 So these are the results of the registration of the people of Israel as conducted by Moses and Eleazar the priest on the plains of Moab beside the Jordan River, across from Jericho.
Read full chapter
New Living Translation (NLT)
Holy Bible, New Living Translation, copyright © 1996, 2004, 2015 by Tyndale House Foundation. Used by permission of Tyndale House Publishers, Inc., Carol Stream, Illinois 60188. All rights reserved.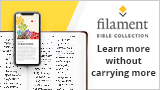 Bible Gateway Recommends
NLT Life Recovery Bible, Personal Size
Retail: $19.99
Our Price: $12.99
Save: $7.00 (35%)
NLT/KJV Bound for Glory Parallel Bible, Hardcover
Retail: $39.99
Our Price: $12.99
Save: $27.00 (68%)
NLT Life Application Large-Print Study Bible, Third Edition--soft leather-look, teal (indexed)
Retail: $94.99
Our Price: $61.99
Save: $33.00 (35%)
My First Hands-on Bible--soft leather-look, pretty pink
Retail: $19.99
Our Price: $13.49
Save: $6.50 (33%)
NLT Large-Print Thinline Reference Bible, Filament Enabled Edition--soft leather-look, floral/teal
Retail: $39.99
Our Price: $26.99
Save: $13.00 (33%)
NLT Life Application Large-Print Study Bible, Third Edition--soft leather-look, brown, tan, red letter (indexed)
Retail: $94.99
Our Price: $63.99
Save: $31.00 (33%)