---
Amplified Bible, Classic Edition
5 And the people spoke against God and against Moses, Why have you brought us out of Egypt to die in the wilderness? For there is no bread, neither is there any water, and we loathe this light (contemptible, unsubstantial) manna.
6 Then the Lord sent fiery (burning) serpents among the people; and they bit the people, and many Israelites died.
7 And the people came to Moses, and said, We have sinned, for we have spoken against the Lord and against you; pray to the Lord, that He may take away the serpents from us. So Moses prayed for the people.
Read full chapter
Amplified Bible, Classic Edition (AMPC)
Copyright © 1954, 1958, 1962, 1964, 1965, 1987 by The Lockman Foundation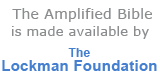 Bible Gateway Recommends
Everyday Life Bible: The Power of God's Word for Everyday Living--soft leather-look, blush
Retail: $79.99
Our Price: $54.99
Save: $25.00 (31%)

Amplified Holy Bible, hardcover
Retail: $29.99
Our Price: $19.99
Save: $10.00 (33%)
Everyday Life Bible: The Power of God's Word for Everyday Living--soft leather-look, teal
Retail: $79.99
Our Price: $54.99
Save: $25.00 (31%)

KJV and Amplified Parallel Bible, Large Print, Bonded Leather, Black
Retail: $79.99
Our Price: $51.99
Save: $28.00 (35%)
Classic Comparative Side-by-Side Bible (NIV, KJV, NASB, Amplified) , Bonded Leather
Retail: $89.99
Our Price: $57.99
Save: $32.00 (36%)
Amplified & NKJV Parallel Bible Bonded Leather, Black, Large Print
Retail: $69.95
Our Price: $39.99
Save: $29.96 (43%)