---
Amplified Bible, Classic Edition
5 Now gather yourself in troops, O daughter of troops; a state of siege has been placed against us. They shall smite the ruler of Israel with a rod (a scepter) on the cheek.
2 But you, Bethlehem Ephratah, you are little to be among the clans of Judah; [yet] out of you shall One come forth for Me Who is to be Ruler in Israel, Whose goings forth have been from of old, from ancient days (eternity).(A)
3 Therefore shall He give them up until the time that she who travails has brought forth; then what is left of His brethren shall return to the children of Israel.
Read full chapter
New International Version
Amplified Bible, Classic Edition (AMPC)
Copyright © 1954, 1958, 1962, 1964, 1965, 1987 by The Lockman Foundation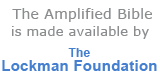 New International Version (NIV)
Holy Bible, New International Version®, NIV® Copyright ©1973, 1978, 1984, 2011 by Biblica, Inc.® Used by permission. All rights reserved worldwide.
NIV Reverse Interlinear Bible: English to Hebrew and English to Greek. Copyright © 2019 by Zondervan.