---
The Great Commission
16 Then the eleven disciples left for Galilee, going to the mountain where Jesus had told them to go. 17 When they saw him, they worshiped him—but some of them doubted!
18 Jesus came and told his disciples, "I have been given all authority in heaven and on earth. 19 Therefore, go and make disciples of all the nations,[a] baptizing them in the name of the Father and the Son and the Holy Spirit. 20 Teach these new disciples to obey all the commands I have given you. And be sure of this: I am with you always, even to the end of the age."
Read full chapter
Footnotes
28:19 Or all peoples.
Nueva Traducción Viviente
La gran comisión
16 Entonces los once discípulos salieron hacia Galilea y se dirigieron al monte que Jesús les había indicado. 17 Cuando vieron a Jesús, lo adoraron, ¡pero algunos de ellos dudaban!
18 Jesús se acercó y dijo a sus discípulos: «Se me ha dado toda autoridad en el cielo y en la tierra. 19 Por lo tanto, vayan y hagan discípulos de todas las naciones,[a] bautizándolos en el nombre del Padre y del Hijo y del Espíritu Santo. 20 Enseñen a los nuevos discípulos a obedecer todos los mandatos que les he dado. Y tengan por seguro esto: que estoy con ustedes siempre, hasta el fin de los tiempos».
Read full chapter
Footnotes
28:19 O todos los grupos étnicos.
New Living Translation (NLT)
Holy Bible, New Living Translation, copyright © 1996, 2004, 2015 by Tyndale House Foundation. Used by permission of Tyndale House Publishers, Inc., Carol Stream, Illinois 60188. All rights reserved.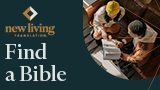 Nueva Traducción Viviente (NTV)
La Santa Biblia, Nueva Traducción Viviente, © Tyndale House Foundation, 2010. Todos los derechos reservados.