---
New Testament for Everyone
13 Don't bring us into the great trial,
but rescue us from evil.
14 'Yes: if you forgive people the wrong they have done, your heavenly father will forgive you as well. 15 But if you don't forgive people, neither will your heavenly father forgive you what you have done wrong.'
Read full chapter
New International Version
14 For if you forgive other people when they sin against you, your heavenly Father will also forgive you.(C) 15 But if you do not forgive others their sins, your Father will not forgive your sins.(D)
Read full chapter
Footnotes
Matthew 6:13 The Greek for temptation can also mean testing.
Matthew 6:13 Or from evil; some late manuscripts one, / for yours is the kingdom and the power and the glory forever. Amen.
New Testament for Everyone (NTE)
Scripture quotations from The New Testament for Everyone are copyright © Nicholas Thomas Wright 2011.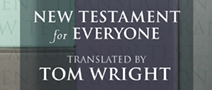 New International Version (NIV)
Holy Bible, New International Version®, NIV® Copyright ©1973, 1978, 1984, 2011 by Biblica, Inc.® Used by permission. All rights reserved worldwide.
NIV Reverse Interlinear Bible: English to Hebrew and English to Greek. Copyright © 2019 by Zondervan.