---
Amplified Bible, Classic Edition
28 Now after the Sabbath, near dawn of the first day of the week, Mary of Magdala and the other Mary went to take a look at the tomb.
2 And behold, there was a great earthquake, for an angel of the Lord descended from heaven and came and rolled the boulder back and sat upon it.
3 His appearance was like lightning, and his garments as white as snow.
Read full chapter
Amplified Bible, Classic Edition (AMPC)
Copyright © 1954, 1958, 1962, 1964, 1965, 1987 by The Lockman Foundation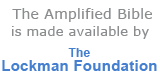 Bible Gateway Recommends
Amplified Holy Bible, hardcover
Retail: $29.99
Our Price: $19.99
Save: $10.00 (33%)
Amplified Study Bible--soft leather-look, purple (indexed)
Retail: $79.99
Our Price: $52.99
Save: $27.00 (34%)

Battlefield of the Mind Bible: Renew Your Mind Through the Power of God's Word, Imitation Leather, brown
Retail: $79.99
Our Price: $53.99
Save: $26.00 (33%)

Everyday Life Bible: The Power Of God's Word For Everyday Living, Imitation Leather, pink
Retail: $79.99
Our Price: $53.99
Save: $26.00 (33%)
Amplified Reading Bible, Imitation Leather, Brown
Retail: $49.99
Our Price: $31.99
Save: $18.00 (36%)
Amplified & NKJV Parallel Bible Bonded Leather, Black, Large Print
Retail: $69.95
Our Price: $39.99
Save: $29.96 (43%)