---
Amplified Bible, Classic Edition
10 But Jesus, fully aware of this, said to them, Why do you bother the woman? She has done a noble (praiseworthy and beautiful) thing to Me.
11 For you always have the poor among you, but you will not always have Me.(A)
12 In pouring this perfume on My body she has done something to prepare Me for My burial.
Read full chapter
Amplified Bible, Classic Edition (AMPC)
Copyright © 1954, 1958, 1962, 1964, 1965, 1987 by The Lockman Foundation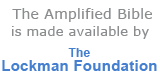 Bible Gateway Recommends
Battlefield of the Mind New Testament--soft leather-look, arcadia blue
Retail: $24.99
Our Price: $17.49
Save: $7.50 (30%)
Amplified Reading Bible, Imitation Leather, Brown, Indexed
Retail: $59.99
Our Price: $38.99
Save: $21.00 (35%)

KJV and Amplified Parallel Bible, Large Print, Hardcover
Retail: $49.99
Our Price: $29.49
Save: $20.50 (41%)
Everyday Life Bible: The Power Of God's Word For Everyday Living, Imitation Leather, pink
Retail: $79.99
Our Price: $53.99
Save: $26.00 (33%)

Amplified Large-Print Bible, hardcover
Retail: $34.99
Our Price: $22.99
Save: $12.00 (34%)

Amplified Outreach Bible, Paperback
Retail: $6.99
Our Price: $4.99
Save: $2.00 (29%)