---
15 Woe be unto you, Scribes and Pharisees, hypocrites: for ye compass sea and [a]land to make one of your profession: and when he is made, ye make him twofold more the child of hell, than you yourselves.
16 Woe be unto you blind guides, which say, Whosoever sweareth by the Temple, it is nothing: but whosoever sweareth by the gold of the Temple, he [b]offendeth.
17 Ye fools and blind, Whether is greater, the gold, or the Temple that [c]sanctifieth the gold?
Read full chapter
Footnotes
Matthew 23:15 The dry part: now that part of that earth is called dry, which the Lord hath given us to dwell upon.
Matthew 23:16 Is a debtor. Sins are called in the Syrian tongue, Debts, and it is certain that Christ spake in the Syrian tongue.
Matthew 23:17 Causeth the gold to be counted holy, which is dedicated to an holy use.
New International Version
15 "Woe to you, teachers of the law and Pharisees, you hypocrites! You travel over land and sea to win a single convert,(A) and when you have succeeded, you make them twice as much a child of hell(B) as you are.
16 "Woe to you, blind guides!(C) You say, 'If anyone swears by the temple, it means nothing; but anyone who swears by the gold of the temple is bound by that oath.'(D) 17 You blind fools! Which is greater: the gold, or the temple that makes the gold sacred?(E)
Read full chapter
1599 Geneva Bible (GNV)
Geneva Bible, 1599 Edition. Published by Tolle Lege Press. All rights reserved. No part of this publication may be reproduced or transmitted in any form or by any means, electronic or mechanical, without written permission from the publisher, except in the case of brief quotations in articles, reviews, and broadcasts.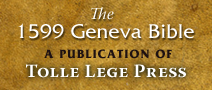 New International Version (NIV)
Holy Bible, New International Version®, NIV® Copyright ©1973, 1978, 1984, 2011 by Biblica, Inc.® Used by permission. All rights reserved worldwide.
NIV Reverse Interlinear Bible: English to Hebrew and English to Greek. Copyright © 2019 by Zondervan.