---
Amplified Bible, Classic Edition
15 Then the Pharisees went and consulted and plotted together how they might entangle Jesus in His talk.
16 And they sent their disciples to Him along with the Herodians, saying, Teacher, we know that You are [a]sincere and what You profess to be and that You teach the way of God truthfully, regardless of consequences and being afraid of no man; for You are impartial and do not regard either the person or the position of anyone.
17 Tell us then what You think about this: Is it lawful to pay tribute [levied on individuals and to be paid yearly] to Caesar or not?
Read full chapter
Footnotes
Matthew 22:16 Hermann Cremer, Biblico-Theological Lexicon.
Amplified Bible, Classic Edition (AMPC)
Copyright © 1954, 1958, 1962, 1964, 1965, 1987 by The Lockman Foundation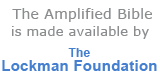 Bible Gateway Recommends
Everyday Life Bible: The Power Of God's Word For Everyday Living, Imitation Leather, pink
Retail: $79.99
Our Price: $53.99
Save: $26.00 (33%)
KJV and Amplified Parallel Bible, Large Print, Leathersoft, Camel/rich red
Retail: $79.99
Our Price: $52.99
Save: $27.00 (34%)
The Amplified Topical Reference Bible, Hardcover
Retail: $39.99
Our Price: $17.99
Save: $22.00 (55%)
Battlefield of the Mind Bible: Renew Your Mind Through the Power of God's Word, Imitation Leather, brown
Retail: $79.99
Our Price: $54.99
Save: $25.00 (31%)
Everyday Life Bible: The Power of God's Word for Everyday Living--soft leather-look, teal
Retail: $79.99
Our Price: $53.99
Save: $26.00 (33%)
Amplified Topical Reference Bible, Bonded Leather, Black
Retail: $69.99
Our Price: $37.99
Save: $32.00 (46%)