---
46 When he discovered a pearl of great value, he sold everything he owned and bought it!
Parable of the Fishing Net
47 "Again, the Kingdom of Heaven is like a fishing net that was thrown into the water and caught fish of every kind. 48 When the net was full, they dragged it up onto the shore, sat down, and sorted the good fish into crates, but threw the bad ones away.
Read full chapter
New Living Translation (NLT)
Holy Bible, New Living Translation, copyright © 1996, 2004, 2015 by Tyndale House Foundation. Used by permission of Tyndale House Publishers, Inc., Carol Stream, Illinois 60188. All rights reserved.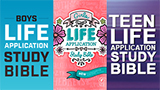 Bible Gateway Recommends
Inspire, Psalms: Coloring & Creative Journaling through the Psalms
Retail: $15.99
Our Price: $8.99
Save: $7.00 (44%)

The Complete Evangelical Parallel Bible KJV, NKJV, NIV & NLTse Hardcover
Retail: $59.95
Our Price: $34.99
Save: $24.96 (42%)

NLT Dancing in the Desert Devotional Bible: A Refreshing Spiritual Journey with God's People, hardcover
Retail: $24.99
Our Price: $5.99
Save: $19.00 (76%)

My First Hands-on Bible--soft leather-look, bold blue
Retail: $19.99
Our Price: $14.49
Save: $5.50 (28%)

NLT Life Application Large-Print Study Bible, Third Edition--soft leather-look, brown, tan, red letter (indexed)
Retail: $94.99
Our Price: $56.99
Save: $38.00 (40%)

NLT The Life Recovery Bible, Softcover
Retail: $24.99
Our Price: $15.99
Save: $9.00 (36%)