---
Parable of the Mustard Seed
31 Here is another illustration Jesus used: "The Kingdom of Heaven is like a mustard seed planted in a field. 32 It is the smallest of all seeds, but it becomes the largest of garden plants; it grows into a tree, and birds come and make nests in its branches."
Parable of the Yeast
33 Jesus also used this illustration: "The Kingdom of Heaven is like the yeast a woman used in making bread. Even though she put only a little yeast in three measures of flour, it permeated every part of the dough."
Read full chapter
Parables of the Hidden Treasure and the Pearl
44 "The Kingdom of Heaven is like a treasure that a man discovered hidden in a field. In his excitement, he hid it again and sold everything he owned to get enough money to buy the field.
45 "Again, the Kingdom of Heaven is like a merchant on the lookout for choice pearls. 46 When he discovered a pearl of great value, he sold everything he owned and bought it!
Parable of the Fishing Net
47 "Again, the Kingdom of Heaven is like a fishing net that was thrown into the water and caught fish of every kind. 48 When the net was full, they dragged it up onto the shore, sat down, and sorted the good fish into crates, but threw the bad ones away. 49 That is the way it will be at the end of the world. The angels will come and separate the wicked people from the righteous, 50 throwing the wicked into the fiery furnace, where there will be weeping and gnashing of teeth. 51 Do you understand all these things?"
"Yes," they said, "we do."
52 Then he added, "Every teacher of religious law who becomes a disciple in the Kingdom of Heaven is like a homeowner who brings from his storeroom new gems of truth as well as old."
Jesus Rejected at Nazareth
53 When Jesus had finished telling these stories and illustrations, he left that part of the country.
Read full chapter
New Living Translation (NLT)
Holy Bible, New Living Translation, copyright © 1996, 2004, 2015 by Tyndale House Foundation. Used by permission of Tyndale House Publishers, Inc., Carol Stream, Illinois 60188. All rights reserved.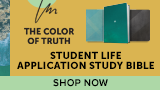 Bible Gateway Recommends
NLT Compact Giant Print Bible, Filament Enabled Edition (Red Letter, LeatherLike, Navy Blue Cross)
Retail: $34.99
Our Price: $27.99
Save: $7.00 (20%)
Contemporary Comparative Parallel Bible (NIV, NKJV, NLT, The Message)
Retail: $59.99
Our Price: $36.99
Save: $23.00 (38%)

NLT New Spirit Filled Life Bible, Imitation Leather, Rich Stone
Retail: $79.99
Our Price: $52.99
Save: $27.00 (34%)

NLT One Year Chronological Study Bible, Hardcover
Retail: $29.99
Our Price: $23.99
Save: $6.00 (20%)
NLT Life Application Large-Print Study Bible, Third Edition--soft leather-look, black/onyx (indexed)
Retail: $94.99
Our Price: $67.99
Save: $27.00 (28%)

NLT Life Application Study Bible, Third Edition--soft leather-look, brown/tan (indexed) (red letter)
Retail: $84.99
Our Price: $55.99
Save: $29.00 (34%)