---
21 When his family heard what was happening, they tried to take him away. "He's out of his mind," they said.
Read full chapter
24 Suddenly, Festus shouted, "Paul, you are insane. Too much study has made you crazy!"
Read full chapter
20 Some said, "He's demon possessed and out of his mind. Why listen to a man like that?"
Read full chapter
The True Family of Jesus
31 Then Jesus' mother and brothers came to see him. They stood outside and sent word for him to come out and talk with them.
Read full chapter
13 If it seems we are crazy, it is to bring glory to God. And if we are in our right minds, it is for your benefit.
Read full chapter
3 and Jesus' brothers said to him, "Leave here and go to Judea, where your followers can see your miracles! 4 You can't become famous if you hide like this! If you can do such wonderful things, show yourself to the world!" 5 For even his brothers didn't believe in him.
6 Jesus replied, "Now is not the right time for me to go, but you can go anytime. 7 The world can't hate you, but it does hate me because I accuse it of doing evil. 8 You go on. I'm not going[a] to this festival, because my time has not yet come." 9 After saying these things, Jesus remained in Galilee.
Jesus Teaches Openly at the Temple
10 But after his brothers left for the festival, Jesus also went, though secretly, staying out of public view.
Read full chapter
Footnotes
7:8 Some manuscripts read not yet going.
11 Jehu went back to his fellow officers, and one of them asked him, "What did that madman want? Is everything all right?"
"You know how a man like that babbles on," Jehu replied.
Read full chapter
7 The time of Israel's punishment has come;
the day of payment is here.
Soon Israel will know this all too well.
Because of your great sin and hostility,
you say, "The prophets are crazy
and the inspired men are fools!"
Read full chapter
26 "The Lord has appointed you to replace Jehoiada as the priest in charge of the house of the Lord. You are responsible to put into stocks and neck irons any crazy man who claims to be a prophet.
Read full chapter
New Living Translation (NLT)
Holy Bible, New Living Translation, copyright © 1996, 2004, 2015 by Tyndale House Foundation. Used by permission of Tyndale House Publishers, Inc., Carol Stream, Illinois 60188. All rights reserved.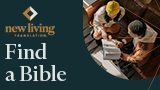 Bible Gateway Recommends
NLT Giant-Print Personal-Size Bible, Filament Enabled Edition--genuine leather, brown
Retail: $69.99
Our Price: $39.99
Save: $30.00 (43%)

NLT Life Application Large-Print Study Bible, Third Edition--soft leather-look, brown, tan, red letter (indexed)
Retail: $94.99
Our Price: $68.99
Save: $26.00 (27%)

NLT Outreach Bible
Retail: $3.99
Our Price: $2.99
Save: $1.00 (25%)

The Book of Psalms: Raw, Honest Poems Telling the Stories of Humans and the Desire to Know God, NLT
Retail: $38.00
Our Price: $25.99
Save: $12.01 (32%)

NLT Teen Life Application Study Bible, Softcover
Retail: $22.99
Our Price: $17.99
Save: $5.00 (22%)

NLT Children's Outreach Bible, Softcover
Retail: $3.99
Our Price: $3.49
Save: $0.50 (13%)