---
14 Then he appointed twelve of them and called them his apostles.[a] They were to accompany him, and he would send them out to preach,
Read full chapter
Footnotes
3:14 Some manuscripts do not include and called them his apostles.
8 But you will receive power when the Holy Spirit comes upon you. And you will be my witnesses, telling people about me everywhere—in Jerusalem, throughout Judea, in Samaria, and to the ends of the earth."
Read full chapter
16 You didn't choose me. I chose you. I appointed you to go and produce lasting fruit, so that the Father will give you whatever you ask for, using my name.
Read full chapter
Greetings from Paul
1 This letter is from Paul, an apostle. I was not appointed by any group of people or any human authority, but by Jesus Christ himself and by God the Father, who raised Jesus from the dead.
Read full chapter
24 Then they all prayed, "O Lord, you know every heart. Show us which of these men you have chosen 25 as an apostle to replace Judas in this ministry, for he has deserted us and gone where he belongs."
Read full chapter
Jesus Sends Out His Disciples
10 The Lord now chose seventy-two[a] other disciples and sent them ahead in pairs to all the towns and places he planned to visit. 2 These were his instructions to them: "The harvest is great, but the workers are few. So pray to the Lord who is in charge of the harvest; ask him to send more workers into his fields. 3 Now go, and remember that I am sending you out as lambs among wolves. 4 Don't take any money with you, nor a traveler's bag, nor an extra pair of sandals. And don't stop to greet anyone on the road.
5 "Whenever you enter someone's home, first say, 'May God's peace be on this house.' 6 If those who live there are peaceful, the blessing will stand; if they are not, the blessing will return to you. 7 Don't move around from home to home. Stay in one place, eating and drinking what they provide. Don't hesitate to accept hospitality, because those who work deserve their pay.
8 "If you enter a town and it welcomes you, eat whatever is set before you. 9 Heal the sick, and tell them, 'The Kingdom of God is near you now.' 10 But if a town refuses to welcome you, go out into its streets and say, 11 'We wipe even the dust of your town from our feet to show that we have abandoned you to your fate. And know this—the Kingdom of God is near!'
Read full chapter
Jesus Sends Out the Twelve Disciples
9 One day Jesus called together his twelve disciples[a] and gave them power and authority to cast out all demons and to heal all diseases. 2 Then he sent them out to tell everyone about the Kingdom of God and to heal the sick. 3 "Take nothing for your journey," he instructed them. "Don't take a walking stick, a traveler's bag, food, money,[b] or even a change of clothes. 4 Wherever you go, stay in the same house until you leave town. 5 And if a town refuses to welcome you, shake its dust from your feet as you leave to show that you have abandoned those people to their fate."
6 So they began their circuit of the villages, preaching the Good News and healing the sick.
Read full chapter
47 It was also written that this message would be proclaimed in the authority of his name to all the nations,[a] beginning in Jerusalem: 'There is forgiveness of sins for all who repent.'
Read full chapter
Footnotes
24:47 Or all peoples.
15 But even before I was born, God chose me and called me by his marvelous grace. Then it pleased him 16 to reveal his Son to me[a] so that I would proclaim the Good News about Jesus to the Gentiles.
When this happened, I did not rush out to consult with any human being.[b] 17 Nor did I go up to Jerusalem to consult with those who were apostles before I was. Instead, I went away into Arabia, and later I returned to the city of Damascus.
18 Then three years later I went to Jerusalem to get to know Peter,[c] and I stayed with him for fifteen days. 19 The only other apostle I met at that time was James, the Lord's brother. 20 I declare before God that what I am writing to you is not a lie.
Read full chapter
New Living Translation (NLT)
Holy Bible, New Living Translation, copyright © 1996, 2004, 2015 by Tyndale House Foundation. Used by permission of Tyndale House Publishers, Inc., Carol Stream, Illinois 60188. All rights reserved.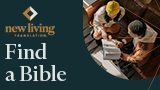 Bible Gateway Recommends
NLT One Year Premium Slimline Large Print Bible: 10th Anniversary - softcover
Retail: $22.99
Our Price: $14.99
Save: $8.00 (35%)

NLT Hands-On Bible, Softcover
Retail: $19.99
Our Price: $15.99
Save: $4.00 (20%)

NLT Giant-Print Personal-Size Bible, Filament Enabled Edition--soft leather-look, rustic brown
Retail: $29.99
Our Price: $21.99
Save: $8.00 (27%)

NLT Large-Print Life Application Study Bible, Third Edition--genuine leather, brown (indexed)
Retail: $129.99
Our Price: $84.99
Save: $45.00 (35%)

NLT Life Application Large-Print Study Bible, Third Edition--soft leather-look, brown, tan, red letter (indexed)
Retail: $94.99
Our Price: $68.99
Save: $26.00 (27%)

NLT New Spirit Filled Life Bible, Imitation Leather, Rich Stone
Retail: $79.99
Our Price: $52.99
Save: $27.00 (34%)