---
Amplified Bible, Classic Edition
3 And He said to the man who had the withered hand, Get up [and stand here] in the midst.
4 And He said to them, Is it lawful and right on the Sabbath to do good or to do evil, to save life or to take it? But they kept silence.
5 And He glanced around at them with vexation and anger, grieved at the hardening of their hearts, and said to the man, Hold out your hand. He held it out, and his hand was [completely] restored.
Read full chapter
Amplified Bible, Classic Edition (AMPC)
Copyright © 1954, 1958, 1962, 1964, 1965, 1987 by The Lockman Foundation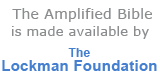 Bible Gateway Recommends
Amplified Reading Bible, Imitation Leather, Brown, Indexed
Retail: $59.99
Our Price: $35.99
Save: $24.00 (40%)
Amplified & NKJV Parallel Bible Bonded Leather, Black, Large Print
Retail: $69.95
Our Price: $39.99
Save: $29.96 (43%)

Amplified Large-Print Bible, hardcover
Retail: $34.99
Our Price: $20.99
Save: $14.00 (40%)
NKJV Amplified Parallel Bible Hardcover Large Print
Retail: $39.95
Our Price: $23.99
Save: $15.96 (40%)

KJV and Amplified Parallel Bible, Large Print, Hardcover
Retail: $49.99
Our Price: $29.49
Save: $20.50 (41%)

Classic Comparative Side-by-Side Bible (NIV, KJV, NASB, Amplified) , Bonded Leather
Retail: $89.99
Our Price: $52.99
Save: $37.00 (41%)