---
Amplified Bible, Classic Edition
12 But you [priests] profane it when [by your actions] you say, The table of the Lord is polluted, and the fruit of it, its food, is contemptible and may be despised.
13 You say also, Behold, what a drudgery and weariness this is! And you have sniffed at it, says the Lord of hosts. And you have brought that which was [a]taken by violence, or the lame or the sick; this you bring as an offering! Shall I accept this from your hand? says the Lord.(A)
14 But cursed is the [cheating] deceiver who has a male in his flock and vows to offer it, yet sacrifices to the [sovereign] Lord a blemished or diseased thing! For I am a great King, says the Lord of hosts, and My name is terrible and to be [reverently] feared among the nations.
Read full chapter
Footnotes
Malachi 1:13 Animals with defects or serious flaws were unacceptable as sacrifices.
Amplified Bible, Classic Edition (AMPC)
Copyright © 1954, 1958, 1962, 1964, 1965, 1987 by The Lockman Foundation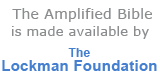 Bible Gateway Recommends
Battlefield of the Mind Bible: Renew Your Mind Through the Power of God's Word, Imitation Leather, brown
Retail: $79.99
Our Price: $54.99
Save: $25.00 (31%)

Classic Comparative Side-by-Side Bible (NIV, KJV, NASB, Amplified) - Slightly Imperfect
Retail: $89.99
Our Price: $45.04
Save: $44.95 (50%)
Amplified Study Bible, Large Print, Imitation Leather, Brown
Retail: $69.99
Our Price: $41.99
Save: $28.00 (40%)

KJV and Amplified Parallel Bible, Large Print, Leathersoft, Camel/rich red
Retail: $79.99
Our Price: $47.99
Save: $32.00 (40%)
Everyday Life Bible: The Power of God's Word for Everyday Living--soft leather-look, teal
Retail: $79.99
Our Price: $53.99
Save: $26.00 (33%)

Amplified Bible, Battlefield of the Mind: Psalms and Proverbs Imitation Leather
Retail: $19.00
Our Price: $13.49
Save: $5.51 (29%)