---
17 He asked them, "What are you discussing so intently as you walk along?"
They stopped short, sadness written across their faces. 18 Then one of them, Cleopas, replied, "You must be the only person in Jerusalem who hasn't heard about all the things that have happened there the last few days."
19 "What things?" Jesus asked.
"The things that happened to Jesus, the man from Nazareth," they said. "He was a prophet who did powerful miracles, and he was a mighty teacher in the eyes of God and all the people. 20 But our leading priests and other religious leaders handed him over to be condemned to death, and they crucified him. 21 We had hoped he was the Messiah who had come to rescue Israel. This all happened three days ago.
22 "Then some women from our group of his followers were at his tomb early this morning, and they came back with an amazing report. 23 They said his body was missing, and they had seen angels who told them Jesus is alive! 24 Some of our men ran out to see, and sure enough, his body was gone, just as the women had said."
25 Then Jesus said to them, "You foolish people! You find it so hard to believe all that the prophets wrote in the Scriptures.
Read full chapter
New Living Translation (NLT)
Holy Bible, New Living Translation, copyright © 1996, 2004, 2015 by Tyndale House Foundation. Used by permission of Tyndale House Publishers, Inc., Carol Stream, Illinois 60188. All rights reserved.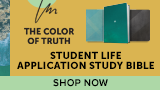 Bible Gateway Recommends
My First Hands-on Bible--soft leather-look, bold blue
Retail: $19.99
Our Price: $15.99
Save: $4.00 (20%)
NLT Life Application Large-Print Study Bible, Third Edition--soft leather-look, black/onyx (indexed)
Retail: $94.99
Our Price: $69.99
Save: $25.00 (26%)

NLT Life Recovery Bible, Large Print
Retail: $34.99
Our Price: $27.99
Save: $7.00 (20%)

NLT Student Life Application Study Bible, Filament Enabled Edition, LeatherLike, Teal Blue Stripped, Indexed
Retail: $59.99
Our Price: $43.99
Save: $16.00 (27%)
NLT Life Application Study Bible, Third Edition--soft leather-look, brown/mahogany (red letter)
Retail: $74.99
Our Price: $54.99
Save: $20.00 (27%)
NLT Outreach Bible, Case of 18
Retail: $89.82
Our Price: $50.22
Save: $39.60 (44%)