---
2 "Do you think those Galileans were worse sinners than all the other people from Galilee?" Jesus asked. "Is that why they suffered?
Read full chapter
2 "Rabbi," his disciples asked him, "why was this man born blind? Was it because of his own sins or his parents' sins?"
Read full chapter
4 The people of the island saw it hanging from his hand and said to each other, "A murderer, no doubt! Though he escaped the sea, justice will not permit him to live."
Read full chapter
4 And what about the eighteen people who died when the tower in Siloam fell on them? Were they the worst sinners in Jerusalem?
Read full chapter
5 No, it's because of your wickedness!
There's no limit to your sins.
6 "For example, you must have lent money to your friend
and demanded clothing as security.
Yes, you stripped him to the bone.
7 You must have refused water for the thirsty
and food for the hungry.
8 You probably think the land belongs to the powerful
and only the privileged have a right to it!
9 You must have sent widows away empty-handed
and crushed the hopes of orphans.
10 That is why you are surrounded by traps
and tremble from sudden fears.
11 That is why you cannot see in the darkness,
and waves of water cover you.
12 "God is so great—higher than the heavens,
higher than the farthest stars.
13 But you reply, 'That's why God can't see what I am doing!
How can he judge through the thick darkness?
14 For thick clouds swirl about him, and he cannot see us.
He is way up there, walking on the vault of heaven.'
15 "Will you continue on the old paths
where evil people have walked?
16 They were snatched away in the prime of life,
the foundations of their lives washed away.
Read full chapter
New Living Translation (NLT)
Holy Bible, New Living Translation, copyright © 1996, 2004, 2015 by Tyndale House Foundation. Used by permission of Tyndale House Publishers, Inc., Carol Stream, Illinois 60188. All rights reserved.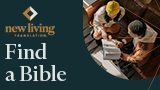 Bible Gateway Recommends
The Book of Psalms: Raw, Honest Poems Telling the Stories of Humans and the Desire to Know God, NLT
Retail: $38.00
Our Price: $25.99
Save: $12.01 (32%)
NLT Outreach Bible, Case of 18
Retail: $71.82
Our Price: $44.82
Save: $27.00 (38%)
NLT Premium Value Thinline Bible, Filament Enabled Edition-- soft leather-look, brown
Retail: $14.99
Our Price: $11.99
Save: $3.00 (20%)
NLT Life Application Study Bible, Third Edition--soft leather-look, teal floral
Retail: $74.99
Our Price: $54.99
Save: $20.00 (27%)
NLT Giant-Print Personal-Size Bible, Filament Enabled Edition--soft leather-look, floral frame teal (indexed)
Retail: $39.99
Our Price: $29.99
Save: $10.00 (25%)
NLT New Spirit Filled Life Bible, Imitation Leather, Rich Stone
Retail: $79.99
Our Price: $52.99
Save: $27.00 (34%)