---
Mary Visits Elizabeth
39 A few days later Mary hurried to the hill country of Judea, to the town 40 where Zechariah lived. She entered the house and greeted Elizabeth. 41 At the sound of Mary's greeting, Elizabeth's child leaped within her, and Elizabeth was filled with the Holy Spirit.
42 Elizabeth gave a glad cry and exclaimed to Mary, "God has blessed you above all women, and your child is blessed. 43 Why am I so honored, that the mother of my Lord should visit me? 44 When I heard your greeting, the baby in my womb jumped for joy. 45 You are blessed because you believed that the Lord would do what he said."
The Magnificat: Mary's Song of Praise
46 Mary responded,
56 Mary stayed with Elizabeth about three months and then went back to her own home.
The Birth of John the Baptist
57 When it was time for Elizabeth's baby to be born, she gave birth to a son. 58 And when her neighbors and relatives heard that the Lord had been very merciful to her, everyone rejoiced with her.
59 When the baby was eight days old, they all came for the circumcision ceremony. They wanted to name him Zechariah, after his father. 60 But Elizabeth said, "No! His name is John!"
61 "What?" they exclaimed. "There is no one in all your family by that name." 62 So they used gestures to ask the baby's father what he wanted to name him. 63 He motioned for a writing tablet, and to everyone's surprise he wrote, "His name is John." 64 Instantly Zechariah could speak again, and he began praising God.
65 Awe fell upon the whole neighborhood, and the news of what had happened spread throughout the Judean hills. 66 Everyone who heard about it reflected on these events and asked, "What will this child turn out to be?" For the hand of the Lord was surely upon him in a special way.
Zechariah's Prophecy
67 Then his father, Zechariah, was filled with the Holy Spirit and gave this prophecy:
80 John grew up and became strong in spirit. And he lived in the wilderness until he began his public ministry to Israel.
Read full chapter
New Living Translation (NLT)
Holy Bible, New Living Translation, copyright © 1996, 2004, 2015 by Tyndale House Foundation. Used by permission of Tyndale House Publishers, Inc., Carol Stream, Illinois 60188. All rights reserved.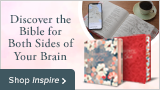 Bible Gateway Recommends
NLT Chronological Life Application Study Bible, Hardcover
Retail: $59.99
Our Price: $44.49
Save: $15.50 (26%)
NLT Life Application Large-Print Study Bible, Third Edition--soft leather-look, brown, mahogan, red letter (indexed)
Retail: $94.99
Our Price: $69.99
Save: $25.00 (26%)
A Girl After God's Own Heart Bible
Retail: $34.99
Our Price: $22.99
Save: $12.00 (34%)
NLT The Life Recovery Bible, Softcover
Retail: $27.99
Our Price: $22.99
Save: $5.00 (18%)
NLT Life Application Large-Print Study Bible, Third Edition--soft leather-look, black/onyx (indexed)
Retail: $94.99
Our Price: $64.99
Save: $30.00 (32%)
NLT Life Application Study Bible, Third Edition--black genuine leather, red-letter (indexed)
Retail: $129.99
Our Price: $72.99
Save: $57.00 (44%)