---
12 When the sun was beginning to set, the twelve disciples came to him and said, "Send the people away so that they can go to the villages and farms around here and find food and lodging, because this is a lonely place."
13 But Jesus said to them, "You yourselves give them something to eat."
They answered, "All we have are five loaves and two fish. Do you want us to go and buy food for this whole crowd?" 14 (There were about five thousand men there.)
Jesus said to his disciples, "Make the people sit down in groups of about fifty each."
Read full chapter
New International Version
12 Late in the afternoon the Twelve came to him and said, "Send the crowd away so they can go to the surrounding villages and countryside and find food and lodging, because we are in a remote place here."
13 He replied, "You give them something to eat."
They answered, "We have only five loaves of bread and two fish—unless we go and buy food for all this crowd." 14 (About five thousand men were there.)
But he said to his disciples, "Have them sit down in groups of about fifty each."
Read full chapter
12 And when the day began to wear away, then came the twelve, and said unto him, Send the multitude away, that they may go into the towns and country round about, and lodge, and get victuals: for we are here in a desert place.
13 But he said unto them, Give ye them to eat. And they said, We have no more but five loaves and two fishes; except we should go and buy meat for all this people.
14 For they were about five thousand men. And he said to his disciples, Make them sit down by fifties in a company.
Read full chapter
Good News Translation (GNT)
Copyright © 1992 by American Bible Society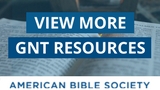 New International Version (NIV)
Holy Bible, New International Version®, NIV® Copyright ©1973, 1978, 1984, 2011 by Biblica, Inc.® Used by permission. All rights reserved worldwide.
NIV Reverse Interlinear Bible: English to Hebrew and English to Greek. Copyright © 2019 by Zondervan.