---
25 But I tell you of a truth, many widows were in Israel in the days of (A)Elijah, when heaven was shut three years and six months, when great famine was throughout all the [a]land:
26 But unto none of them was Elijah sent, save into Zarephath, a city of Sidon, unto a certain widow.
27 Also many lepers were in Israel, in the time of (B)Elisha the Prophet: yet none of them was made clean, saving Naaman the Syrian.
Read full chapter
New International Version
25 I assure you that there were many widows in Israel in Elijah's time, when the sky was shut for three and a half years and there was a severe famine throughout the land.(A) 26 Yet Elijah was not sent to any of them, but to a widow in Zarephath in the region of Sidon.(B) 27 And there were many in Israel with leprosy[a] in the time of Elisha the prophet, yet not one of them was cleansed—only Naaman the Syrian."(C)
Read full chapter
Footnotes
Luke 4:27 The Greek word traditionally translated leprosy was used for various diseases affecting the skin.
1599 Geneva Bible (GNV)
Geneva Bible, 1599 Edition. Published by Tolle Lege Press. All rights reserved. No part of this publication may be reproduced or transmitted in any form or by any means, electronic or mechanical, without written permission from the publisher, except in the case of brief quotations in articles, reviews, and broadcasts.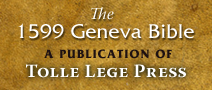 New International Version (NIV)
Holy Bible, New International Version®, NIV® Copyright ©1973, 1978, 1984, 2011 by Biblica, Inc.® Used by permission. All rights reserved worldwide.
NIV Reverse Interlinear Bible: English to Hebrew and English to Greek. Copyright © 2019 by Zondervan.