---
Amplified Bible, Classic Edition
25 But in truth I tell you, there were many widows in Israel in the days of Elijah, when the heavens were closed up for three years and six months, so that there came a great famine over all the land;
26 And yet Elijah was not sent to a single one of them, but only to Zarephath in the country of Sidon, to a woman who was a widow.(A)
27 And there were many lepers in Israel in the time of Elisha the prophet, and yet not one of them was cleansed [by being healed]—but only Naaman the Syrian.(B)
Read full chapter
New International Version
25 I assure you that there were many widows in Israel in Elijah's time, when the sky was shut for three and a half years and there was a severe famine throughout the land.(A) 26 Yet Elijah was not sent to any of them, but to a widow in Zarephath in the region of Sidon.(B) 27 And there were many in Israel with leprosy[a] in the time of Elisha the prophet, yet not one of them was cleansed—only Naaman the Syrian."(C)
Read full chapter
Footnotes
Luke 4:27 The Greek word traditionally translated leprosy was used for various diseases affecting the skin.
Amplified Bible, Classic Edition (AMPC)
Copyright © 1954, 1958, 1962, 1964, 1965, 1987 by The Lockman Foundation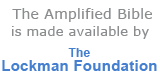 New International Version (NIV)
Holy Bible, New International Version®, NIV® Copyright ©1973, 1978, 1984, 2011 by Biblica, Inc.® Used by permission. All rights reserved worldwide.
NIV Reverse Interlinear Bible: English to Hebrew and English to Greek. Copyright © 2019 by Zondervan.