---
48 You are witnesses of these things. 49 Listen carefully: I am sending the Promise of My Father [the Holy Spirit] upon you; but you are to remain in the city [of Jerusalem] until you are clothed (fully equipped) with power from on high."(A)
The Ascension
50 Then He led them out as far as Bethany, and lifted up His hands and blessed them.(B)
Read full chapter
New International Version
48 You are witnesses(A) of these things. 49 I am going to send you what my Father has promised;(B) but stay in the city until you have been clothed with power from on high."
The Ascension of Jesus
50 When he had led them out to the vicinity of Bethany,(C) he lifted up his hands and blessed them.
Read full chapter
Amplified Bible (AMP)
Copyright © 2015 by The Lockman Foundation, La Habra, CA 90631. All rights reserved.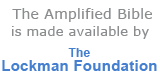 New International Version (NIV)
Copyright © 1973, 1978, 1984, 2011 by Biblica
NIV Reverse Interlinear Bible: English to Hebrew and English to Greek. Copyright © 2019 by Zondervan.