---
35 Then they told what things were done in the way, and how he was known of them in [a]breaking of bread.
36 ¶ (A)[b]And as they spake these things, Jesus himself stood in the midst of them, and said unto them, Peace be to you.
37 But they were abashed and afraid, supposing that they had seen a spirit.
Read full chapter
Footnotes
Luke 24:35 When he brake bread, which that people used, and as the Jews use yet at this day at the beginning of their meals, and say a prayer.
Luke 24:36 The Lord himself showeth by certain and necessary signs, that he was risen again, and that in the same body which he took upon him.
New International Version
35 Then the two told what had happened on the way, and how Jesus was recognized by them when he broke the bread.(A)
Jesus Appears to the Disciples
36 While they were still talking about this, Jesus himself stood among them and said to them, "Peace be with you."(B)
37 They were startled and frightened, thinking they saw a ghost.(C)
Read full chapter
1599 Geneva Bible (GNV)
Geneva Bible, 1599 Edition. Published by Tolle Lege Press. All rights reserved. No part of this publication may be reproduced or transmitted in any form or by any means, electronic or mechanical, without written permission from the publisher, except in the case of brief quotations in articles, reviews, and broadcasts.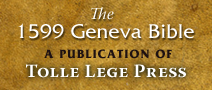 New International Version (NIV)
Holy Bible, New International Version®, NIV® Copyright ©1973, 1978, 1984, 2011 by Biblica, Inc.® Used by permission. All rights reserved worldwide.
NIV Reverse Interlinear Bible: English to Hebrew and English to Greek. Copyright © 2019 by Zondervan.