---
Amplified Bible, Classic Edition
60 But Peter said, Man, I do not know what you are talking about. And instantly, while he was still speaking, the cock crowed.
61 And the Lord turned and looked at Peter. And Peter recalled the Lord's words, how He had told him, Before the cock crows today, you will deny Me thrice.
62 And he went out and wept bitterly [that is, with painfully moving grief].
Read full chapter
Amplified Bible, Classic Edition (AMPC)
Copyright © 1954, 1958, 1962, 1964, 1965, 1987 by The Lockman Foundation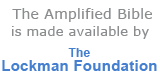 Bible Gateway Recommends
Amplified Study Bible, Large Print, Imitation Leather, Brown
Retail: $69.99
Our Price: $45.99
Save: $24.00 (34%)
NKJV Amplified Parallel Bible Hardcover Large Print
Retail: $39.95
Our Price: $23.99
Save: $15.96 (40%)

Amplified & NKJV Parallel Bible Bonded Leather, Black, Large Print
Retail: $69.95
Our Price: $39.99
Save: $29.96 (43%)

La Biblia de la Vida Diaria NVI, Enc. Rústica (NVI Everyday Life Bible, Softcover) - Slightly Imperfect
Retail: $24.99
Our Price: $13.12
Save: $11.87 (47%)
Amplified Bible, Large Print leather-look, brown/dark brown- index
Retail: $79.99
Our Price: $52.99
Save: $27.00 (34%)

KJV and Amplified Parallel Bible, Large Print, Bonded Leather, Black
Retail: $79.99
Our Price: $53.99
Save: $26.00 (33%)