---
Contemporary English Version
40-41 Then suppose you realize that I turned against you and brought you to the land of your enemies because both you and your ancestors had stubbornly sinned against me. If you humbly confess what you have done and start living right, 42 I'll keep the promise I made to your ancestors Abraham, Isaac, and Jacob. I will bless your land 43 and let it rest during the time that you are in a foreign country, paying for your rebellion against me and my laws.
Read full chapter
New International Version
41 which made me hostile(A) toward them so that I sent them into the land of their enemies—then when their uncircumcised hearts(B) are humbled(C) and they pay(D) for their sin, 42 I will remember my covenant with Jacob(E) and my covenant with Isaac(F) and my covenant with Abraham,(G) and I will remember the land. 43 For the land will be deserted(H) by them and will enjoy its sabbaths while it lies desolate without them. They will pay for their sins because they rejected(I) my laws and abhorred my decrees.(J)
Read full chapter
Contemporary English Version (CEV)
Copyright © 1995 by American Bible Society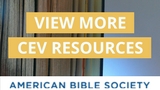 New International Version (NIV)
Holy Bible, New International Version®, NIV® Copyright ©1973, 1978, 1984, 2011 by Biblica, Inc.® Used by permission. All rights reserved worldwide.
NIV Reverse Interlinear Bible: English to Hebrew and English to Greek. Copyright © 2019 by Zondervan.