---
21 I will [a]send my blessing upon you in the sixth year, and it shall bring forth fruit for three years.
22 And ye shall sow the eighth year, and eat of the old fruit until the ninth year: until the fruit thereof come ye shall eat the old.
23 ¶ Also the land shall not be sold to be [b]cut off from the family: for the land is mine, and ye be but strangers and sojourners with me.
Read full chapter
New International Version
21 I will send you such a blessing(A) in the sixth year that the land will yield enough for three years.(B) 22 While you plant during the eighth year, you will eat from the old crop and will continue to eat from it until the harvest of the ninth year comes in.(C)
23 "'The land(D) must not be sold permanently, because the land is mine(E) and you reside in my land as foreigners(F) and strangers.
Read full chapter
1599 Geneva Bible (GNV)
Geneva Bible, 1599 Edition. Published by Tolle Lege Press. All rights reserved. No part of this publication may be reproduced or transmitted in any form or by any means, electronic or mechanical, without written permission from the publisher, except in the case of brief quotations in articles, reviews, and broadcasts.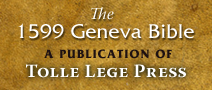 New International Version (NIV)
Holy Bible, New International Version®, NIV® Copyright ©1973, 1978, 1984, 2011 by Biblica, Inc.® Used by permission. All rights reserved worldwide.
NIV Reverse Interlinear Bible: English to Hebrew and English to Greek. Copyright © 2019 by Zondervan.