---
Amplified Bible, Classic Edition
25 But in the fifth year you may eat of the fruit [of the trees], that their produce may enrich you; I am the Lord your God.
26 You shall not eat anything with the blood; neither shall you use magic, omens, or witchcraft [or predict events by horoscope or signs and lucky days].
27 You shall not round the corners of the hair of your heads nor trim the corners of your beard [as some idolaters do].
Read full chapter
Amplified Bible, Classic Edition (AMPC)
Copyright © 1954, 1958, 1962, 1964, 1965, 1987 by The Lockman Foundation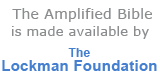 Bible Gateway Recommends
Everyday Life Bible: The Power Of God's Word For Everyday Living, Imitation Leather, pink
Retail: $79.99
Our Price: $53.99
Save: $26.00 (33%)

KJV and Amplified Parallel Bible, Large Print, Leathersoft, Camel/rich red
Retail: $79.99
Our Price: $52.99
Save: $27.00 (34%)
Amplified Holy Bible, softcover - Slightly Imperfect
Retail: $19.99
Our Price: $11.89
Save: $8.10 (41%)
KJV and Amplified Parallel Bible, Large Print, Hardcover
Retail: $49.99
Our Price: $29.49
Save: $20.50 (41%)
Amplified Reading Bible, Imitation Leather, Brown, Indexed
Retail: $59.99
Our Price: $38.99
Save: $21.00 (35%)