---
Amplified Bible, Classic Edition
19 And the Lord said to Moses,
2 Say to all the assembly of the Israelites, You shall be holy, for I the Lord your God am holy.(A)
3 Each of you shall give due respect to his mother and his father, and keep My Sabbaths holy. I the Lord am your God.
Read full chapter
Amplified Bible, Classic Edition (AMPC)
Copyright © 1954, 1958, 1962, 1964, 1965, 1987 by The Lockman Foundation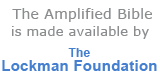 Bible Gateway Recommends
Battlefield of the Mind New Testament--soft leather-look, coral
Retail: $24.99
Our Price: $16.99
Save: $8.00 (32%)
Amplified Thinline Holy Bible--bonded leather, black - Imperfectly Imprinted Bibles
Retail: $49.99
Our Price: $17.59
Save: $32.40 (65%)
Amplified Compact Holy Bible, hardcover
Retail: $14.99
Our Price: $9.99
Save: $5.00 (33%)
Classic Comparative Side-by-Side Bible (NIV, KJV, NASB, Amplified) , Bonded Leather
Retail: $89.99
Our Price: $57.99
Save: $32.00 (36%)
Classic Comparative Side-by-Side Bible (NIV, KJV, NASB, Amplified)
Retail: $54.99
Our Price: $35.99
Save: $19.00 (35%)
Amplified Bible, Large Print leather-look, brown/dark brown- index
Retail: $79.99
Our Price: $52.99
Save: $27.00 (34%)